Manage by kloudgen™: What? Why? How?
Manage by kloudgen™ is our managed service for Snowflake. In addition to our deep expertise in Snowflake cloud data platform and as Service Partner, we developed a unique methodology and proprietary tools with built-in best practices and automation. We offer you an accurate, fast and cost effective service to fully manage your Snowflake accounts.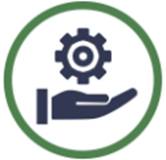 Snowflake is often presented as a zero-management or near-zero management solution*. Offered as a Cloud service, Snowflake handles infrastructure, storage, compute resources and automatically manage data compression, data encryption, data partitioning and updates, etc.
Nevertheless, there are many aspects about administration, monitoring and health checks, that Snowflake customers have to manage on their own. For example: Usage, Cost, Users, Security, Auditing, Performance, Warehouses, Databases, Data life cycles, etc.
With Manage by kloudgen™, we fully manage your Snowflake account with these unique features:
If you'd like to learn how Manage by kloudgen™ can help fully manage your Snowflake account, please