Migration By Kloudgen: What? Why? How?
Migration by Kloudgen™ is our service for legacy modernization to the Snowflake data platform.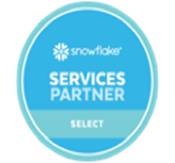 As a Snowflake Service Partner Select, we not only have deep expertise in Snowflake cloud data platform but also in legacy data systems such as Teradata, Exadata, Netezza and Hadoop. Our Migration by Kloudgen™ service leverages our proven 3-phase migration approach that combines clearly defined phases, work streams, tasks and sub-tasks with auto-generation of the migration project plan! In addition, our Migration by Kloudgen™ service leverages cloud migration best practices, code conversion accelerators and a mixture of delivery models.
With Migration by Kloudgen™, we deliver Snowflake migration projects to our clients with CRAFT*:
If you'd like to learn how Migration by Kloudgen™ can help your organization migrate from your legacy data system to Snowflake data platform in a cost-effective, risk-free and faster way, please